Table of Contents
Setup for Wireless Community Networks Initiative
As a part of the Libre Digital Library (LDL) and the Community Networks Initiative, FSFTN is planning to start the activity and collect around 4TB size of Creative Commons Data in the form of Ebooks, Videos, Audio, Tutorials, Softwares and other infrastructures that are required to setup the Community Networks.
In order to do that we need,
A Raspberry Pi 4 with 2GB

A 32GB SD Card

A 4TB Hard Disk for storing contents permanently

A 1TB Hard Disk for cloning minimal contents and replicate it in Schools, Parks, Libraries, etc

Routers and Cables
| Item | Cost |
| --- | --- |
| Western Digital 4TB Hard Disk | Rs. 8,499 |
| Western Digital 1TB Hard Disk | Rs. 3,699 (Bought) |
| Raspberry Pi 4 (2 GB) | Rs. 3,390 |
| Sandisk 32GB SD Card | Rs. 399 |
| TP-Link Router | Rs. 999 |
| Total Cost | Rs. 16,986 |
If you would like to donate Routers and other requirements for this initiative, it will be very useful.
What?
A Local Network will be initiated by FSFTN at variou localities through our contacts primarily in Schools, Libraries, Community Centres, etc. This network will be setup using Raspberry Pi, Routers, Data in HDD. It will be owned by the Community where we will be deploying. The Community will participate in managing the netowrk, add contents, customize, etc. Hence, we call it as Wireless Community Networks. People can join the network through their devices and use the contents available in the Network.
Where?
The Community Network Initiative arises out of necessity after discussing with various communities and locality associations in Chennai primarily in OMR where FSFTN participated in a Book Fair in June, 2019. Till now, the plan is to deploy the networks in,
Community Learning Centres in OMR

Government Schools

Apartments in Sai Nagar, OMR
Out of the experience gathered from the above areas, we are planning to expand it across.
How?
With the amount of technical expertise gathered and exhibited during the POC at OMR Book Fair, the plan is simple and straightforward. Gather contents in a HDD, serve it through Raspberry Pi and establish a network with Router. People can connect to the network, use the contents, read books and add services on top of it.
Why?
Through Community Network we aim to bring upon participation and ownership from the Community. We conduct regular activities, learnings, access to Creative Commons contents primarily relating to education, E-Books both in Tamil and English. These networks act as an introductory platform between FSFTN and Localities. Through this People's Network we can take forward a Social, Cultural change driven by Collectivism and move on a path to Knowledge Freedom. Its kinda be a slow process but a possible future
FSFTN requests the Community to donate a minimum contribution for the movement to afford these devices which would be used for,
Deploying Community Networks with these content in Libraries, Schools, Apartments, etc around Tamil Nadu starting from Chennai

Setting up Libre Digital Library with these contents in various localitites
Account Details
| | |
| --- | --- |
| Name | Free Software Foundation Tamil Nadu |
| Bank | Union Bank of India |
| IFSC | UBIN0535214 |
| Account No. | 352101010800768 |
For UPI Transaction - fsftn@upi
Note - Please send your details to [email protected] after the contribution for us to track the contributors list. It would be a valuable contribution for the Community to proceed with the Community Networks Activities around Tamil Nadu.
---
Contributions
| Name | Contribution |
| --- | --- |
| Lokesh | Rs. 500 |
| Velchamy | Rs. 500 |
| Survesh | Rs. 100 |
| Kamalavelan | Rs. 200 |
| VMS | Rs. 500 |
| Shrinivasan | Rs. 1,000 |
| Umar | Rs. 250 |
| Radhakrishnan | Rs. 500 |
| Bharathi | Rs. 1,000 |
| Anonymous | Rs. 2,000 |
| Total | Rs. 6,550 |
Items Bought
1TB Hard Disk - Rs. 3,200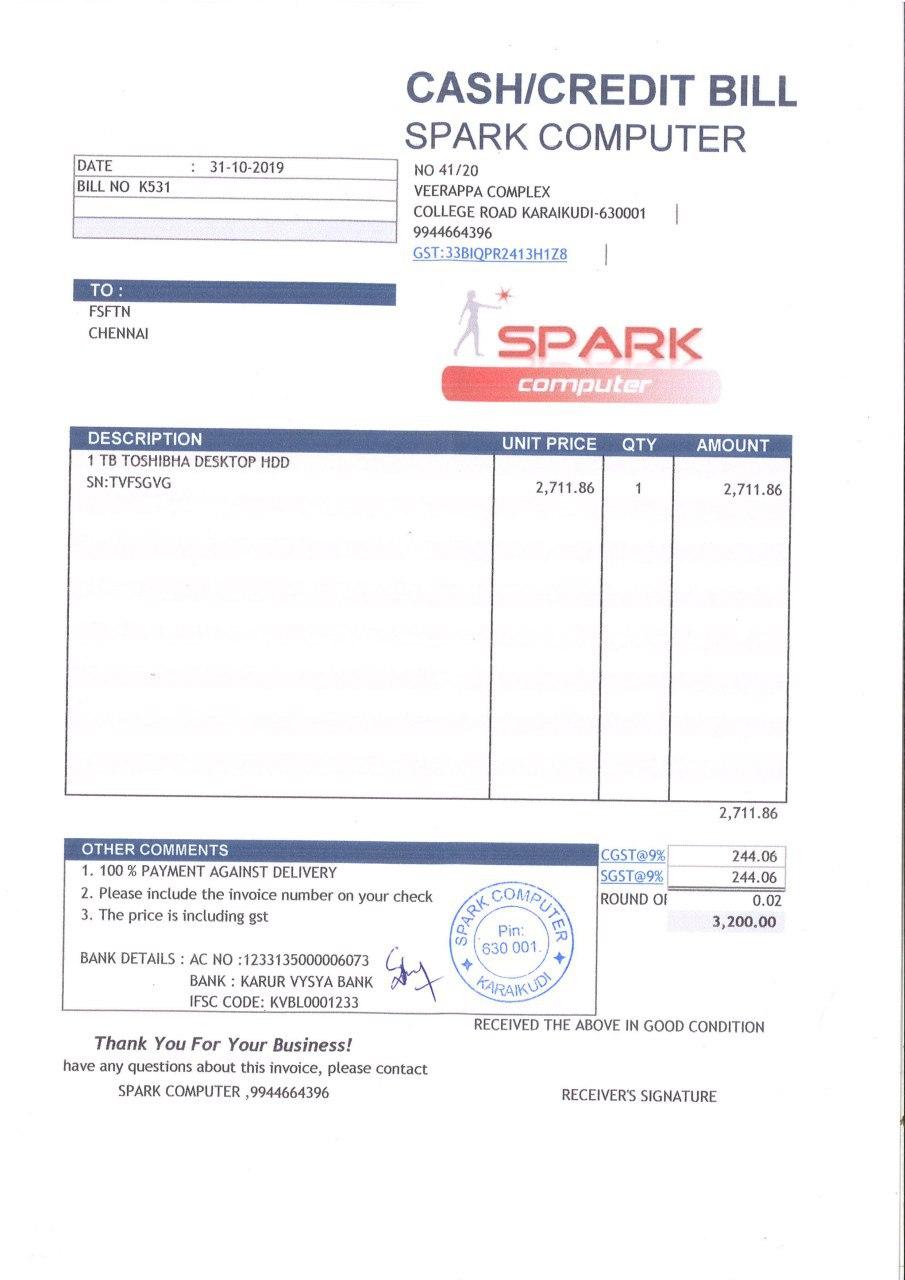 hard_disks_cc_contents.txt · Last modified: 2021/06/06 12:11 by 127.0.0.1
---